SGP Laminated Glass
SGP (sentryGlass plus) is the ion of ethylene and Methyl Acrylate polymers, SGP has more advantages as interlayer material.
● SGP is 5 times that of PVB tear strength, 100 times that of PVB hardness, and the thermoplastic temperature of SGP material is 20℃ higher than PVB material, so it has a wider range of rigidity and reliability, and better and safer maintenance when glass broken. Using SGP film can effectively reduce the application thickness of glass, it's the economic choice of oversized glass separately designed.
● SGP has lower hygroscopicity, it can effectively preventing water immersion, avoiding bubbles and unglued.
● SGP has the ability to completely prevent ultraviolet, Special formula SGP might as well let ultraviolet pass through.
● SGP combined with metals in ionic bonds form, bonding capacity is more better, the bond strength is more than 20.7mpa, is the preferred product in structure designing.
● SGP has better transparency than PVB, laminated with the ultra-clear glass is the perfect solution.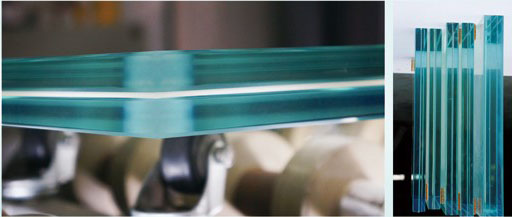 REMARKS:Due to the strong hardness of SGP material, at present, the size always be customized, so it is necessary to consider the delivery cycle.
Commonly used thickness:0.89/1.52/2.28mm